How to use your FRUH tongue & groove fasteners
Preparations for your wall paneling or wooden ceiling paneling
Do you have in mind a beautifully finished and energy-saving ceiling or a wall neatly paneled with wood?
At your nearest lumber dealer or hardware store you are sure to find everything you need, such as:
Wooden slats for a stable substructure
profiled wood boards of your choice (tongue and groove / tongue and groove profile)
Ceiling hangers for safely and stably installed wooden ceilings
You have all the materials together, such as your wooden substructure for wall paneling or your ceiling hanger for your wooden ceiling?

You will find the suitable tongue and groove fasteners with us!

Fixing the substructure

In the first step, we start to attach the wooden slats as a substructure to your desired wall or ceiling.

In the case of wall cladding, screw the substructure, at the distance you need, directly to the wall to ensure optimal rear ventilation of the boards and the wall.

In the case of ceiling suspension / cladding the wall with wood, attach the wooden slats to the ceiling hangers that you have already screwed.

Subsequently, mount the 1st row of profile boards on your wall or ceiling with a starting claw or with a visible screw.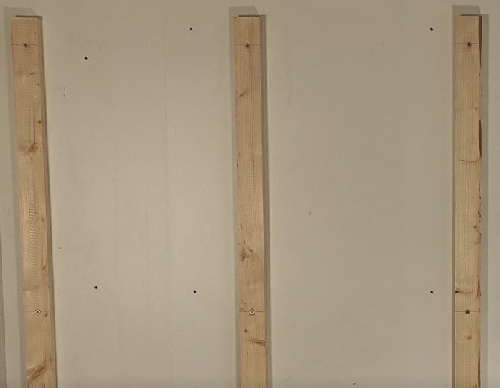 The assembly of the tongue and groove boards

When the first row of profile boards is screwed, fix the other rows by inserting your other profile timbers into the groove of the lower row of boards. Repeat this procedure until the row of profiled boards on the wall is complete.

Afterwards, the boards are screwed together with the tongue and groove clips. Place your profile board claw in the middle of the substructure and insert the claw into the groove of your board. Now the tongue and groove clips are fixed to the wooden substructure. The enclosed screws provide the necessary hold for your hidden wall fastening.

Then you can start with the next row of profile boards.